10th International Symposium on Therapeutic Ultrasound 2010 (ISTU2010)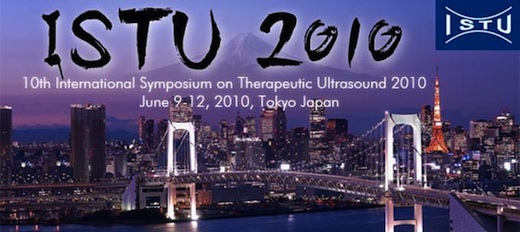 10th International Symposium on Therapeutic Ultrasound 2010 (ISTU2010)
June 9-12, 2010, Tokyo Japan

ISTU2010 Website
梅村晋一郎教授が 国際超音波治療学会 より "The Fry Award" を受賞しました。
The William and Francis Fry Honorary Fellowship for Contributions to Therapeutic Ultrasound
Professor Shin-ichiro Umemura (awarded in Tokyo in 2010)
This lifetime achievement award is given annually to an individual who has made outstanding contributions to therapeutic ultrasound. Potential recipients of this award are nominated by the Organizing Committee of each annual ISTU symposium and ratified by the Board.

International Society for Therapeutic Ultrasound - Prizes and Awards
William and Francis Fry Honorary Fellowship Recipient Speech
When you are in your twenties, your death is beyond the horizon.
About a year and a half ago, I received surgery to remove colon cancer.
Right before the surgery, I felt my death was this close, and asked myself,
"Have I done anything I can hand to the next generation, for which I can give up my life if I have to?"
I felt I had done something however small it was, and I was prepared for the surgery.
Considering the smallness of what I have done, this award is way too big by orders of magnitude.
Probably, what is meant here is that in order to deserve this award
I should survive a little longer and continue working to deliver something more to the next generation.
But you should be careful.
I may sometimes deliver you wrong information, of course, non-intentionally, like I almost did yesterday.
So ask questions anytime when you think I am going to deliver you something strange.
Thank you.
June 11, 2010
Shin-ichiro Umemura
ISTU2010 研究発表
Oral Presentation
A2 Keynote
"Detection of Transient Microbubbles to Enhance Therapeutic Ultrasound Treatment"
Umemura S.1, Yoshizawa S.2, Takagi R.2, Asami R.3, Kawabata K.3
C2-4
"Effects of Lamb Waves in Single-Element High Intensity Focused Ultrasound Transducer"
Otsu K.1, Kaneshima Y.1, Yoshizawa S.2, Umemura S.1
C3-6
"Enhancement of Localized Heating by Creating Multiple Cavitation Clouds"
Yoshizawa S.2, Inaba Y.2, Takagi R.2, Umemura S.1
Poster Presentation
P1-22
"Acoustic Impedance and Sound Speed Measurement of Thermally Denatured and Non-denatured Chicken Breast Muscle"
Shishitani T.2, Yoshizawa S.2, Umemura S.1
P1-41
"Gel Phantom Containing Controlled Air to Test Triggered HIFU Exposure Sequence"
Takimoto K.1, Moriyama T.2, Takagi R.2, Yoshizawa S.2, Umemura S.1
P1-42
"3D Reconstruction of HIFU Pressure Field from Optical Measurement"
Shimazaki Y.2, Omura R.2, Yoshizawa S.2, Umemura S.1
P2-30
"Ultrasound Lithotripsy for Pet Kidney Stones"
Yoshizawa S.2, Iida K.2, Wada A.4, Matsuura T.4, Ishii H.4, Umemura S.1, Matsumoto Y.5
1. Department of Biomedical Engineering, Tohoku University
2. Department of Electrical and Communication Engineering, Tohoku University
3. Hitachi Ltd.
4. Tokyo Animal Medical Center
5. Department of Mechanical Engineering, The University of Tokyo