Contents
---
- Home
- Sponsors
- Program
- Banquet
- Abstract
- Contact
---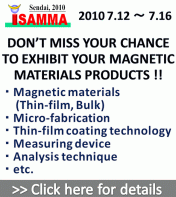 Welcome to the ISAMMA 2010 in Sendai, Japan
The 2nd International Symposium on Advanced Magnetic Materials and Applications (ISAMMA 2010) is to be held at Sendai International Center, in a central area of Sendai, Japan, from July 12 (Monday) to July 16 (Friday).

The aims of this symposium are to bring together scientists and engineers working on magnetic materials and their applications and to facilitate exchange of recent results and ideas around the following topics. The ISAMMA conference is a consolidation of the former international conferences under three different organizations:

ISPMM (International Symposium on Physics of Magnetic Materials) of Japan,
SOMMA (International Symposium on Magnetic Materials and Application) of Korea,
ISAMT (International Symposium on Spintronics and Advanced Magnetic Technologies) of Taiwan.