Contents
---
- Home
- Sponsors
- Program
- Banquet
- Abstract
- Contact
---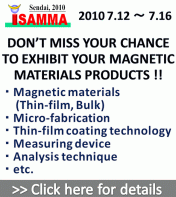 Registration
You can register in advance at a reduced rate prior to May 30, 2010. You are encouraged to register via the following web site.
(ID and password are the same for abstract submission)
https://amarys-jtb.jp/isamma2010/Default.aspx
Onsite registration during the conference will be at the higher rates listed below. After May 30, only the higher registration fees will be accepted.
       
Advanced
Late/On-site
Regular Participant
JPY 45,000
JPY 55,000
Students/Retired
JPY 20,000
JPY 25,000
Accompanying Person
JPY 5,000
JPY 5,000
Banquet Fee
JPY 8,000
※Registration fee of accompanying person only covers welcome party and coffee service. He/she can not attend the technical session.
Cancellations of advance registrations must be submitted in writing and received no later than May 30, 2010. Refunds of the original payment, less a JPY 8,000 service fee, will be mailed following the conference.
Follow the registration procedures which will be available at each step of the process. If you have questions, please contact conference secretary at the e-mail address: isamma2010@ecei.tohoku.ac.jp