Contents
---
- Home
- Sponsors
- Program
- Banquet
- Abstract
- Contact
---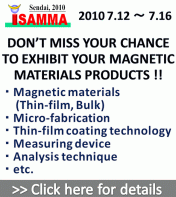 Conference Site
We are proud to welcome you to the City of Sendai and share its beauty with you. With a population of approximately one million, Sendai is the political, economic, scientific, and cultural center of North-Eastern Japan in harmony with nature; lush greenery of zelkova trees that line streets, to the beautiful scenery that offers a peaceful atmosphere. While supporting a modern infrastructure, the City of Sendai respects its history, and many traditional events are still carried over unchanged from ancient to modern times. The weather in Sendai in July is warm, with an average daylight temperature between 25-30 degree C.
Sendai has a long history for research of magnetism. Institute for Materials Research, the first institute for the research of magnetism in Japan, was established in Tohoku University in 1922. The first director of this institute was Prof. Kotaro Honda, who was well known as an inventor of KS magnet. After this great success, a variety of functional magnetic materials were developed from this University and companies around Sendai.
Access Guide
Bus:
10minutes from Sendai Station( bus stop No.9 ).

It is the 5th stop.
Walk:
30minutes from Sendai Station straight down AOBA DORI Avenue,
across the OHASHI-Bridge.
Please refer to Sendai International Center Access Page