Research Interests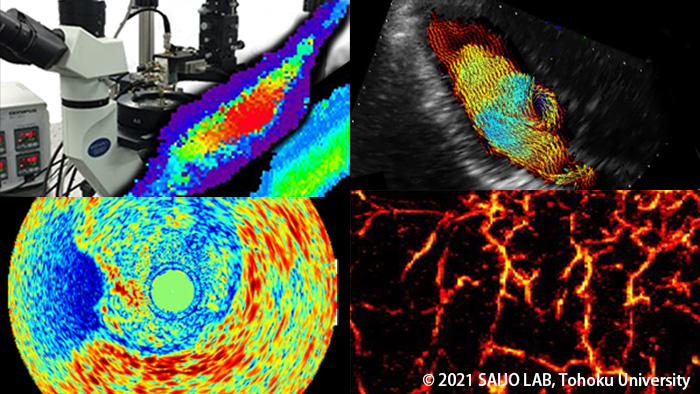 The Saijo Laboratory (Biomedical Imaging Group, Graduatre School of Biomedical Engineering, Tohoku University) is challenging to expand the world of life phenomena visible with ultrasound while taking advantage of the safety, real-time, and probability of ultraosund imaging.
More detailed spatio-temporal variability of flow in the body, clearer images of capillary network of tens of microns, clearer images of structural changes inside living cells, and instantaneous images of the three-dimensional structure of blood vessels.
In order to realize such various requirements in medicine, We will create future medical imaging technology by integrating a wide range of engineering approaches, from ultrasound transducer design, signal and image processing, optical systems, and artificial intelligence engineering.
LATEST INFORMATION
2021.10.25-27

The 42nd Symposium on Fundamentals and Applications of Ultrasonic Electronics (https://use-jp.org/)We will participate in the
Our Laboratory will present our research results in the areas of photoacoustic imaging, in-vivo flow analysis, and AI-bases ultrasound image analysis.

2021.09.21

Mr. Naoya Kanno, a second year doctoral student at our laboratory, received the Encouragement Award at the 62nd Annual Meeting of the Japanese Society pf Ultrasonography, Tohoku Region.

2021.09.15

International Conference on Biomedical Engineering (ICoBE 2021) Anam Bhatti, a second year master's student in our laboratory, received the Best Presenter Award.